Community Facilities
There's a lot to do in Bassano – no matter what the time of year.  We boast great community operated facilities including:
Artificial Ice Arena
Outdoor Swimming Pool
Recreation Complex – Golf Clubhouse, Bowling Alley, Curling Rink
9 Hole Golf Course
Tennis Courts
Baseball Diamonds
Bassano School Gymnasium
Soccer Fields
Kinsmen Park
Rodeo Grounds
Gun Club Facility
Bassano Sage & Thistle Golf Course
Veterans Way
403-641-4016
Website

Open April 1st – September 30th.
The Bassano Sage & Thistle Golf Club is a quaint, well-maintained par 36 golf course which is designed to play as an 18 hole course. Flanked by numerous trees and ponds, its lush fairways lead to small but impressive grass greens.
The Sage & Thistle serves both walk-on golfers and private members. Green fees are inexpensive compared to other courses and golfers have a fleet of rentals carts at their disposal. The licensed clubroom consists of a kitchen, bar and seating area downstairs and a spacious lounge area upstairs especially suited for tournaments. Men's, ladies and junior leagues run during the week with numerous tournaments hosted on weekends.
---
Homecoming Park
The Homecoming Camp Ground located on main street is complete with power, washroom and shower facilities. Camping is enhanced by the large shade trees and the nearby Kinsmen Park. A great spot to stop in while visiting Bassano. Camping cost per night is $20 or $25 with power. The Campground operates on a first come first served basis.
Rodeo Grounds
This Town owned facility is managed by the Rodeo Committee. Home of the Annual Amateur Rodeo the last full weekend of June features a fully operational set of corrals, office, announcer booth and outdoor arena. The event moved to this location about 1990.
The Rodeo Grounds is also home of the Canada Day events in Bassano held every July 1st. The Kinsmen Club of Bassano hosts a program and fireworks for young and old alike.
Interested in becoming a volunteer with the Rodeo Committee? Call Shawna Singular for more information at 641-2947.
Arena
249 – 6 Avenue
phone 641-4025
The Bassano & District Centennial Arena was completed in 1968 and has been a beehive of activity ever since. In the summer the facility has been used for street hockey, 4H achievement, Homecoming activities and wrestling but the winter is the facilities busy time. Activities such as hockey, figure skating, ringette, and skatathons provide hours of winter activity and fun for area residents of all ages.

The facility is Town owned-leased to Arena Management/Ag Society to operate. Many volunteer hours are spent in and around the Arena managing operations, coaching/instructing children, working concession to mention a few of the jobs.
Arena Executive
Ryan Barlow, President
Vice President
Jamie Richards, Treasurer
Secretary
---
Ball / Soccer Fields
228 – 9 Avenue
Bassano has two maintained ball diamonds with red shale infield and grass outfields. The diamonds are maintained by community volunteers, the grass is mowed by Town Recreation/Tourism department. Fastball, softball and slow-pitch are games played over the years.

The Soccer fields are maintained by Town Recreation/Tourism department and are popular spots during May and June. Bassano is a member of the Grasslands Soccer Association so competitors are Duchess, Brooks and Tilley.

Bassano Minor Ball President is Doug Toly          641-2775

Bassano Soccer Association President is D'Arcy Harmacy
---
Bassano Arts Council
Bassano Arts Council were formed and are a committed group of volunteers offering performing arts to our community. The Council has been very successful for a number of years now with this season looking just as brilliant!
Town of Bassano 641-3788
Linda Andres 641-4280
Stew Heron 641-3971
Molly Douglass 641-2562
Sharon Schaffer 641-3027
Dorothy Bingham 641-4104
Jan Armstrong 641-2484
Diane Wickson 641-3692
---
Bowling Alley
Veterans Way
Bassano Bowling alley is a three lane five pin facility that offers league, group and individual usage. Glow bowling is also available. The alley is managed by a volunteer group who strive to maintain a busy recreational opportunity for Bassano and area residents.

League Action:
Seniors– Monday at 1:30pm — for more info call Doug Leavitt 403-641-2822.
Ladies — Tuesday at 7:00pm — for more call Carolyn Leavitt 403-641-2822.
Mixed — Mondays at 7:00pm — for more call Doug Leavitt 403-641-2822.
Youth — Wednesdays at 4:00pm — for more call Carolyn Leavitt at 403-641-2822.
Facility Rental — $40.00/hour includes shoes.

For more information or to book the facility call Carolyn Leavitt at 403-641-2822.

2013-2014 Executive

Chairman: Doug Leavitt
Vice Chairman: Verna Heryford
Secretary: Lorraine Steinbach
Treasurer: Peter Paetkau
Director: Karen Bell
Director: Wilma Young

Director: Carleen Smith
---
Curling Club
Veterans Way

phone 641-4016


The Bassano Curling Rink has three sheets of artificial ice, a large viewing area at ice level, and a licensed/viewing area upstairs. The Curling Club operates from mid October through March 31st, with Men's Ladies, Mixed, and Junior League on week nights and bonspiels in all three adult categories on weekends beginning in February.

Membership is affordable and new members are welcome. Telephone any member of the executive for more information.
Executive:
President
Karyn Hemminger
403-641-4825
Vice President
Virginia Toly
Treasurer
Sandra Mitchell
403-641-2868
Secretary
Wilma Young
Directors:
Kim Douglass
403-641-2173
Garry Young
Doug Leavitt
Gerry Christman
---
Gun Club
Information coming soon!
CRAWLING VALLEY CAMPGROUND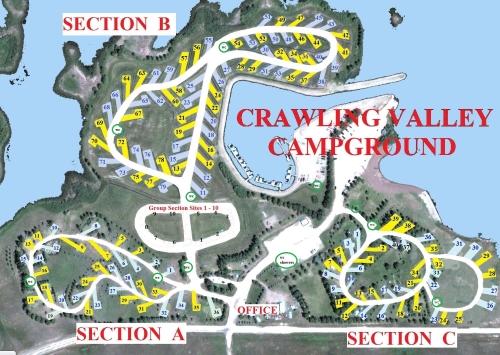 Crawling Valley Campground started in 1983 when a few visionary members of the Bassano Community created the Crawling Valley Recreation Society and with a provincial grant for Recreation in the Province, created the original Crawling Valley Campground. None of this could have happened without the support of the County of Newell No.4 (who leased the land from the EID) and the Eastern Irrigation District stake holders and the countless volunteers. These volunteers, built campsites, fire pits, tables, planted trees, etc.
In recent years the Crawling Valley Recreation Society have added a playground, shower building and shop to the existing office.
In the last 3 years the Eastern Irrigation District has instilled hundreds of thousands of dollars into a fabulous Marina and the renovation of 2 sections of the campground, adding power, underground sprinklers & trees for shelter belts and a beach was added to the campground.
Today the Crawling Valley Recreation Society board continue to work on your behalf to make Crawling Valley Campground the very best camping and fishing destination in South Eastern Alberta.
Crawling Valley Recreation Society (Campground)
Box 567
Bassano, AB
T0J 0B0
Phone (403) 641-4095
During our off-season October 1- April 30 all questions or information required must be directed by mail to the above address or emailed to crawlingvalley@gmail.com